Skilled. Kind. Effective.
Pick three.
We aim to inspire, motivate and encourage all of our patients on their individual pathways to getting where they want to go and achieving their goals - from injury recovery to running a marathon, and everything in between!
Come on in and experience the difference... Your body and mind will both thank you for it!

Brendon Hooker
Founder
Managing Director
Acupuncturist / Herbalist
Brendon was the first person in New Zealand to hold both a Western Natural Medicine double diploma and an Eastern Oriental Medicine degree. He integrates the best of both these worlds, blending the Eastern tradition with Western Natural Medicine know-how.
Brendon has been involved in women's health for years, including clinical trials for period pain and the use of acupuncture with IVF. Together with Mike, he heads up the TBW women's health team.
Brendon's underlying treatment principle is 'finding balance' and aims to not just help people feel better, but help them understand the reasons why they have arrived at their current health issue.
Brendon makes up one half of The Body Workshop Italian Motorcycle Club & Italian Coffee Machine Appreciation Society and has a love for music: from deep house to Japanese Taiko drumming.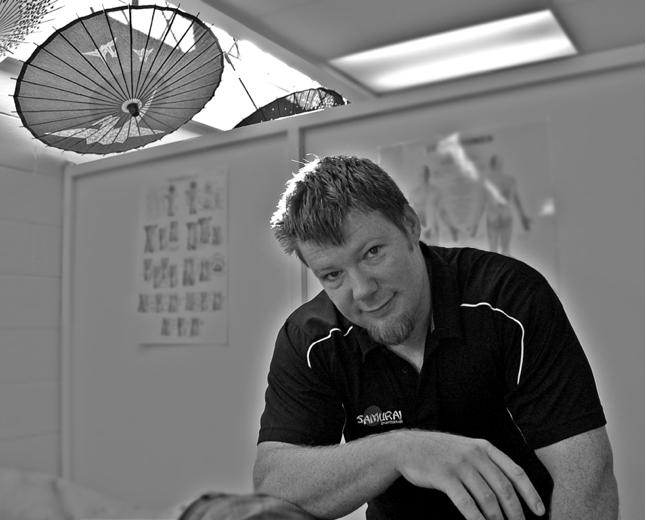 Julian Cloete
Director
Physiotherapist / Martial Arts Instructor
Julian practices with holistic techniques to treat all aspects of the body. His multi-modal physiotherapy practice is used to alleviate pain, correct dysfunctions and enhance physical performance while integrating mental, emotional and spiritual wellbeing in the healing process.
Julian's treatment principle combines manual and manipulative therapy, movement rehabilitation and functional exercise training, kinesiology and muscle activation, craniosacral therapy and visceral manipulation, Qi gong & kinesio-taping among more traditional modalities of physiotherapy.
Julian graduated with Honours in Physiotherapy in 2001 and migrated to NZ with his family in 2009 where he joined the TBW family. He has a strong interest in Tai Chi and Kung Fu and co-ordinates the NZ branch of Yang's Martial Arts Association.

Mike Armour
Director
Acupuncturist / Herbalist
Mike is currently on sabbatical at the University of Western Sydney, doing some Post PhD work and due to return 2018!
Mike has a passion for integrative medicine with a background in Western Medical Science as well as Traditional Chinese Medicine. He has completed a PhD on the treatment of period pain with acupuncture, and is also involved with a number of clinical trials & research programs related to acupuncture and women's health. Together, Mike & Brendon head up the TBW women's health team, covering all aspects of reproductive health.
Mike has a passion for espresso coffee, hi-tech gadgets, collecting vinyl, and is a 7th dan black belt master at providing solutions for anything IT related!

Kaori Satake
Acupuncturist / Herbalist
Kaori is currently on hiatus in Indonesia diving and exploring, and will be back 'home' to New Zealand next year!
Kaori has a wide-ranging background from Buddhism to teaching Scuba diving, extensive travel throughout Asia & Europe, to sitting still meditating!
Raised in modern Japan, she always questioned the meaning of life; her explorations led her to gaining a Bachelor of Art, and now a Bachelor of Traditional Acupuncture. Kaori's interest is through holistic approach, healing both body & mind and finding the way to enjoy a harmonious life.